The UK School of Information Science offers an alternative spring break program in which LIS students can gain career-enhancing experience working in the country's leading national libraries and archives.

About ASB
Since 2011, the UK SIS Alternative Spring Break program has partnered with the Library of Congress, the National Library of Medicine, the National Archives and Records Administration and the Smithsonian Libraries. Participating students spend one week at one of these institutions paired with a working librarian or archivist. Each student is able to contribute to an ongoing project and learn from practicing professionals in the field. We are proud to be one of the only Library Science programs which offers this unique professional development opportunity to its students. The School supports chosen interns with a scholarship to offset travel and lodging expenses.
Past Alternative Spring Break participants have had the opportunity to intern at the Library of Congress, the National Library of Medicine, the National Networks of Libraries of Medicine Greater Midwest Chapter and the Smithsonian Libraries. Host institutions determine the availability of internship positions and the projects for interns in a given year. The decision to offer an internship position or take a student as an intern for ASB belongs to the host institution.

---
Past ASB Experiences
Reflections
Raeshelle Cooke
Over the Spring Break week, I worked with the National Library of Medicine Region 7 to create a discussion guide for a graphic novel. Before this experience, I did not know what a discussion guide was, and I was interested in learning and also getting the opportunity to create one myself to add it to my resume and knowledge bank. I learned that a discussion guide is a list of questions about a book, and it is used to encourage discussion about the book's topic. We were tasked to read a graphic novel about a mental health topic, as NNLM Region 7 works in Public Health.
This experience gave me the opportunity to read about Alzheimer's for example, as this was the mental health topic I chose to read about. I read the book "Tangles: A story about Alzheimer's, my mother and me" by Sarah Leavitt. Through her experience, I learned more about what Alzheimer's looks likes from the perspective of the patient and also the caregiver. I always suspected it was a difficult and trying experience, but the book was very blunt and detailed; it made it clear just how much of a heartbreaking, exhausting, and rollercoaster-like, disgusting, and daunting experience it really is. It got me thinking and asking myself: how can I best prepare myself and my family for this event if it should happen to me? And what can I do now for my brain to keep it away? It got me in preparation mode more so than fear mode.
I chose this book and this mental health topic because I wanted to pick a mental health condition that I personally connect with. My family on my father's side has a history of Alzheimer's and Dementia, and I have had fears of getting this disease, so I wanted to read a book about it so that I can care about the project, learn about the disease, and share someone's real-life experience with the condition as it may help people. Over the week, I created a discussion for the book, so I came up with a list of questions for the book that others can center their conversation around to start a discussion about Alzheimer's. I also created a video presentation talking about the project, so I got to speak to the public and present as well. The discussion guide will be added to NNLM Region 7's discussion guide kit, so it will be shared with different groups of people. I am excited that I had the opportunity to work on a project as important as this, and that others will be using the guide in the future.
The professional impact was also rewarding. Our supervisor set us up with meetings with library managers and librarians, so we had a chance to speak with them about their careers, how they got where they are, and we got to hear their advice on the best steps to take to be successful in those various career field. I got to learn a lot from the meetings, and I was also grateful that the library director we spoke with sent us a lead on an internship afterwards, so the meetings were already having a positive impact on our careers and the week wasn't even over yet. I really appreciate that our supervisor took the time to set us up with those informational meetings in the middle of the project, to do something outside the scope of the project just to help us with our careers. She didn't have to do that, so it was awesome of her to make that effort. The project was great. I enjoyed the experience and would do it again, but work on a different project to have a different experience/gain a different skill. I highly recommend students participate in this project during their Spring Break. It rewards you in more ways than one.

---
Carly Jessup
For my week-long virtual internship, I worked on an Inclusive Writing and Cultural Humility Resource Guide. My project was with the Network of the National Library Medicine, Region 1 Health Sciences and Human Services Library, University of Maryland, Baltimore. This included finding inclusive language resources and content creator checklist resources. The goal of the course creator checklist was to help examine content created by employees and make sure that it is inclusive and culturally humble. After looking at inclusive language resources, I looked for checklists related to assessing content creation related to diversity and inclusion. I looked at a range of materials, but I was especially interested in finding checklists related to medical schools.
Additionally, I was able to attend multiple informative meetings during the week. I attended an implicit bias and coded language training session. We discussed oppression, implicit bias, took implicit bias tests, and discussed our experiences in breakout rooms. I also learned about coded language and microaggressions as well as how to address a situation if it comes up. I also attended an accessibility training which specifically discussed video captioning. I hadn't thought much about the difference between captions and subtitles. However, there is actually a big difference, especially for those deaf or hard of hearing. Subtitles are intended for translation, while captions go beyond listing narration and include speaker identification and non-verbal elements such as someone laughing or mysterious music playing. Both of these trainings taught me information and skills I will use both in my career and everyday life.
For me, this experience has been a great way to explore working in a different type of library setting than I had previously experienced. Additionally, I enjoyed being able to work on a project that was interesting to me with a topic that I think is extremely important. I learned from a variety of highly knowledgeable information professionals and am grateful for having this experience while still in school. I highly encourage UK students to apply for Alternative Spring Break!

---
Lauren Laumas
During the Alternative Spring Break program with the Master's in Library Science program at the University of Kentucky, I participated in the Graphic Medicine Discussion Guide Creation project with the Network of the National Library of Medicine Region 7 at the University of Massachusetts. I read the graphic novel, "Lighter than my Shadow," by Katie Green. From there, I developed questions for a discussion guide that could be distributed to patients, providers, teachers, and other audiences that may want to learn about an individual's experience with a medical topic, which in this case was eating disorders. Creating the discussion guide required me to read the graphic novel closely, read articles from websites such as MedlinePlus about the medical topic covered in the novel, listen to an interview with the author, and gather other background information. I used this information to develop questions that could prompt the reader to think deeper and make personal connections.
This experience taught me the importance of conducting research about a medical topic while reading a narrative about said topic. Many people have misconceptions about illnesses such as eating disorders, so it is important to clear up misconceptions before approaching a narrative about the subject. I also learned about how to create questions that promote critical thinking and encourage reflection. Questions that go beyond eliciting "yes" or "no" responses make people think deeper about the topic at hand. Questions that also encourage an individual to reflect on a topic inspire sympathy, empathy, and personal connections. Finally, I learned more about the profession of medical librarianship. I attended several meetings during the week facilitated by medical librarians and I spoke one-on-one with medical librarians during informational interviews. These experiences helped me see the behind-the-scenes work medical librarians do, make professional connections, and learn more about the daily work of librarians.
The Alternative Spring Break program I participated in with the NNLM Region 7 allowed me to learn skills pertaining to bringing out critical thinking in others. Since I am aspiring to work in academic library science, I will likely teach information literacy classes, and the skills I learned during this internship will help me when eliciting responses from students. I also got a closer look into what medical librarians do in case that is a career path I would like to take. On a personal level, the process of reading the graphic novel and learning more about eating disorders helped me feel more sympathy. Overall, the Alternative Spring Break program through the Master's in Library Science program at UK was a positive experience that expanded my skillset, allowed me to make professional connections, and gave me authentic library science experience.

---
Kaylee McMunn
This semester I had the opportunity to participate in the University of Kentucky School of Information Science Alternative Spring Break program. Throughout the week, I worked to transcribe handwritten medical dissertations from the Early Dissertations of University of Maryland 1813-1887 collection at the Health Sciences and Human Services Library, University of Maryland – Baltimore. The collection comprises bound volumes of multiple dissertations on various topics, an early M.D. degree requirement of the UMB School of Medicine. Because handwritten documents cannot be OCRed (optical character recognition), the purpose of transcribing these documents is to make them searchable and therefore more accessible to students and researchers.
Throughout the week, I learned a lot about the transcription process and techniques for deciphering mid-19th century handwriting. Since the purpose of the work is to make the materials searchable and accessible, as many words and descriptions as possible needed to be included in the transcription. Any small detail can have value to a researcher, for example words no longer in regular usage or in a different spelling. As these were medical essays, Latin terminology was also interspersed throughout, so already having a familiarity with the language and its structure was useful. Many times context could give clues to a difficult word or phrase, or using more legible words as a key to pick out difficult letters and words in other places. Though each transcription was slow to start, I found that with each dissertation, I quickly became more accustomed to the author's handwriting and could pick out difficult words much more easily as I progressed in that transcription. That said, each new dissertation was like starting over—each time, I had to relearn the quirks of a new voice, a new hand. In addition to technical skills, through regular meetings with my placement supervisor I also learned more about the importance of and conversations around this type of archival work. We talked a lot about the importance of access to information in archives, but also the right to be forgotten and the implications of ethical decision making in collections and archival practices.
My experience in this year's ASB program provided me with hands-on experience working with rare materials in a new context and environment, invaluable mentorship in the field, and a fresh perspective on accessibility and ethics in archives. I am so grateful for the opportunities this program provided me and I look forward to the impact of this experience and implementing what I learned as I continue in the LIS program and prepare for my future career.

---
Annabelle Smith
I'm very thankful to have participated in the University of Kentucky's Alternative Spring Break program with the Network of the National Library of Medicine Region 5 (NNLM R5) at the University of Washington. During the week, I collaborated with Michele Spatz, the outreach and engagement coordinator for NNLM R5, on creating a shared decision making LibGuide for both NNLM R5 and the University of Kentucky. Shared decision making is a model that promotes better communication between patients and providers, so that patients can participate in designing their treatment plans. Throughout the week, I worked with Michele on finding resources for medical students, faculty, and providers on shared decision making and patient decision aids. Shared decision making is put into practice when providers have been trained on how to use patient decision aids to support clinical decision making with patients. As a result, I designed a shared decision making LibGuide (https://libguides.uky.edu/SDM), where I compiled resources such as tutorial videos, research articles, eBooks, and other helpful tools. This LibGuide will be a great resource to the medical community at the University of Kentucky to learn more about how to use and apply shared decision making tools into clinical care.
Being able to work on this unique project in the ASB program is one of the best experiences I've had as a graduate student in the Master's in Library Science program. This program has given me the opportunity to learn from health sciences librarians and the work that they do for the Network of the National Library of Medicine. In addition to my project, I was able to attend many meetings on the various projects that were ongoing at NNLM R5, which provided great insight as to how NNLM strives to collaborate with other libraries to reach out into their region. My favorite part of the program was having the opportunity to participate in one-on-one conversations with members of NNLM R5 to learn about how they came to librarianship, what projects they're working on, and what they see for the future of health sciences libraries. It was a fantastic opportunity to make connections and form relationships with professionals who are doing amazing work in the field of health sciences librarianship.
This week it has been a privilege to work with professionals that work to enhance information services locally and globally. The Alternative Spring Break program is a great opportunity for students to connect with professionals, learn new skills, and get hands-on library experience! I recommend that all students apply!

---
Phillip Steder
It was nearly 9:00 AM. I was awaiting the first meeting with my host professors for the Philadelphia College of Osteopathic Medicine – Georgia (PCOM Georgia) as a part of the University of Kentucky's Alternative Spring Break Program. I looked over the schedule to see all that needs to be accomplished. As much as I was excited, I was also very nervous. Despite my brief knowledge of diversity, equity, & inclusion, I had zero experience in designing a library guide, nor did I know if I would understand my purpose in the span of a week. Then, I entered the meeting through a Google Meet call, and all the anxiety started to deplete. As Meghan DiRito, Barbara Wood, and Oliver Chen discussed the project with me, I felt a sense of relief hit. Indeed, the first day's meeting was all I needed. After the introductions, I proceeded to start watching my SpringShare training videos to get better fitted into the work I would soon be completing.
The training videos helped me get a basis for the types of templates on which I would be working. In addition to the training videos, I also met with my host professors throughout the week to get to know them and meet other members of the team. The team introduced me to the meaning behind cultural humility and DEI and their connection to the medical school. For example, Dr. Jackie Werner, a librarian at the Philadelphia campus, gave me an overview of the role of cultural humility as it related to the LGBTQIA+ community. Another example was my meeting with Dr. Kevin Bradford, a librarian at the Georgia campus, who showed me the basis for inclusive writing, or writing that uses up-to-date language appropriation to promote inclusion and to avoid outdated offensive terminology. His presentation opened my eyes on the type of language I should use for both the project and the real world.
Friday had finally come, and I was finished with my library guide. The final product was beyond my expectations. There were nineteen links provided in the guide, all of which were divided into seven sections: Cultural Humility, Microaggressions, Implicit Bias, LGBTQIA+ Identities, Health Disparities, Allyship, and Racial Trauma. To officially finish the project, I presented my library guide to other participants in the ASB program, who also presented theirs.
Overall, my time with PCOM Georgia was short, but rewarding. I had a blast working with Dr. DiRito and her team on the library guide and learned a lot about cultural humility and DEI in the process. The skills I acquired, the lessons I learned, and the connections I made in such a short amount of time were unlike anything I had experienced in this master's program. I was even recommended to apply for a position if one ever becomes available when I graduate next year. Needless to say, I made a lasting great impression.

---
Paige Wright
This past Spring Break, I had the great pleasure of participating in the University of Kentucky's Alternative Spring Break Program. I was given the opportunity to work with the Network of the National Library of Medicine Region 1 at the University of Maryland Baltimore. During this week, I worked exclusively on the Medical Dissertations Collection. I specifically was given the task of creating metadata about the dissertations. This meant that I was reading through each of the dissertations and inputting its identifying information into an excel sheet. The information that I put in included the author's name, hometown, the date it was written and the topic of the dissertation. Before participating in this program, I had some experience with creating metadata and working in an archive setting. However, I did not have any experience in working with medical collections. This was one of the reasons why I chose to apply for this program. By the end of the week, I had read over 1,000 pages of medical dissertations and created metadata for 27 whole dissertations (1 ½ volumes).
Being a part of this program not only gave me new experience that I hope to apply later on in my career of archival work. It also gave me the opportunity to speak with an archivist and gain more knowledge about the field of archiving. I was privileged to get to speak and work with the head archivist at the University of Maryland Baltimore Medical Library. I was able to ask her different questions about the field of archiving and how to get into it. From applying to jobs to what makes archiving such a special field to get into, I was able to ask every and any question that I had. Participating in this program has allowed me to gain experience and feel more confident in moving on and graduating from UK. I feel very lucky and privileged for being given this opportunity. It is something that I will always remember and has been a great way to end my last semester as a Wildcat!
Reflections
Laura Bachor
This week, I was fortunate to participate in the University of Kentucky's Alternative Spring Break program at the National Library of Medicine. While the program was conducted remotely this year due to the COVID-19 pandemic, my classmates and I were able to participate in many great activities to enhance our understanding of NLM and gain valuable hands-on experience. The bulk of the week was spent working on our projects; my particular project was focused on creating quality datasets for consumer health AI systems. I assigned metadata and tags to videos that could help answer specific consumer health questions, allowing these videos to be tested in an AI question answering service. It was fascinating to learn more about how these systems are designed and tested, and it felt very rewarding to know that this work will help NLM build more powerful tools for improving consumer health literacy.
My classmates and I were also able to participate in several educational sessions with experts in a variety of LIS fields during the week-long program. These sessions included engagement and training, cataloging and metadata, digital humanities, and the services and awards offered through NNLM. It was so interesting to hear about the wide range of opportunities available through NLM, as well as how passionate everyone was about their work. I appreciated that everyone we spoke with was so generous with their time and encouraging to us as new professionals and students. The Alternative Spring Break program was a wonderful experience from start to finish. I know the combination of hands-on experience and education that I gained during this program will be invaluable moving forward in my new career. I am very grateful that the program was offered this year, even under the difficult circumstances. It was a wonderful way to cap off my time in the LIS program!

---
Annabelle Smith
I'm so thankful that I had the opportunity to participate in the University of Kentucky's Alternative Spring Break program at the National Library of Medicine during the week of May 24th – 28th, 2021! This week I worked on a preliminary collection assessment on epidemics with my classmate Carly Jessup. During this assessment, we examined titles from University of Toronto Libraries' Bibliography, "Epidemics in History, Literature, and Art." A total of 123 titles were searched in the National Library of Medicine's collection using LocatorPlus. Of those 123 titles, the National Library of Medicine held 110 of them. The missing titles were then further researched, and recommendations were made as to whether these would be beneficial to add to the National Library of Medicine's collection. Additionally, some titles were referred to the appropriate liaisons to further analyze the titles as needed.
Being able to work on a fascinating project that is incredibly timely during the Coronavirus pandemic has been one of the best experiences I've had during the Master's of Library Science program so far! I also had the opportunity to meet and learn from many professionals in the field of health sciences librarianship. This week my classmates and I participated in several discussions with experts to learn about many important topics in health sciences librarianship. These sessions covered topics in digital humanities, metadata, engagement, outreach and training, and awards offered through the Network of the National Library of Medicine. Also, library professionals at NLM were eager to share volunteer and fellowship opportunities for students both during school and after graduating from LIS programs.
This week It has been a privilege to work with professionals that work to enhance information services locally and globally. The Alternative Spring Break program is a great opportunity for students to connect with professionals, learn new skills, and get hands-on library experience! I recommend that all students apply!

---
Susan Koenig
It felt a bit odd tuning in for an Alternative Spring Break program at the end of May, after I had technically graduated. This program was something I looked forward to during my time at UKY, I was excited for the opportunity. Even though the program itself looked a bit different than it had in the past, the enthusiasm everyone at NLM brought was abundantly apparent.
I worked on the creating high-quality datasets for consumer health AI project with Asma Ben Abacha and Shweta Yadav. My main task was annotating a set of over 500 health-related questions pulled from Yahoo Answers. I would read the question, provide a summary of what the person was asking, and classify the type and focus of the question. I was surprised to find additional opportunities to contribute to the project. After annotating a shorter set of questions, I met with Shweta and Asma to go over any questions I had about the annotation process. Based on my questions and suggestions, they updated the annotation guidelines for future use and edited the annotation portal. At the end of the week, I had learned so much about what goes into preparing datasets for natural language processing (NLP) and how complex these systems really are.
As I worked through the dataset, I kept thinking about how similar this process is to the work I do as a reference librarian, in particular the reference interview. So much of this process was reading paragraphs of information and pulling out the threads of what this post was actually asking. Quite often as librarians we tend to silo out our contributions to data analysis - we provide support for data management, information on best practices for storage and accessibility, and occasionally instruction on data literacy. But we have valuable contributions to make to data analysis and creation. At the end of the week, Shweta invited me to return to the NLM sometime this summer, and even offered to help me work on a publication based on the work I did during the ASB. I plan to take her up on that offer, and hope to write something about the parallels between dataset annotation for NLP and the reference interview.
I am so incredibly grateful for the opportunity to work at the NLM on this project. It was such a unique experience, and one that I will surely remember throughout my career. I made connections with other professionals in my field, learned a great deal, and have the opportunity to potentially present or publish something on the work I accomplished. I hope the ASB program continues to provide these same opportunities to future students.

---
Carly Jessup
During my week as a virtual intern for the National Library of Medicine, I had the opportunity to complete a mini collection assessment on epidemics. My research included examining a bibliography of epidemic related titles, determining whether or not NLM held these titles in their collection, and making recommendations as to whether the titles not held would be valuable additions to their collection. First, I learned how to use their online catalog. Next, I would research titles not held to determine whether or not they would be a valuable addition to the collection. At times, this could be challenging when looking for rare books with little information about them online. Additionally, I learned to make considerations concerning author credibility, relevance of content, etc. Lastly, we made a final summary of our findings and passed along titles to consider to the appropriate subject liaison. Considering the events of this past year, this research was both fascinating and rewarding, as it was an extremely relevant subject. Additionally, I had the opportunity to explore other areas by attending several virtual information sessions on a variety of topics such as outreach and engagement, awards, metadata, and digital humanities.
NLM did an excellent job of making this a rewarding experience, despite it being virtual due to COVID-19. I had the opportunity to learn from librarians in a variety of departments. This internship also allowed me to connect with my fellow UK peers, including both new and familiar faces. I am truly grateful that NLM welcomed us virtually, as many events this past year have had to be cancelled without alternatives. Additionally, I am grateful that the University of Kentucky and NLM have this valuable partnership, as it allows students to gain hands-on experience. It has been of great value to have been able to explore my library interests and learn from the caliber of librarians such as those at the National Library of Medicine.

---
Leah Everitt
For my week-long virtual internship with the National Library of Medicine I worked with the team that helps maintain RxNorm. RxNorm is a standard vocabulary for drugs, which helps medical doctors, pharmacists, and researchers in insuring they are all talking about the same drug. For the internship project I worked to evaluate citations submitted to the RxNorm project through an online form. We were interested in knowing how RxNorm is used and how medical professionals and researcher might use RxNorm in the future.
Through the project I learned that RxNorm is most often used for ePrescriptions within medical system software. Currently several research groups are also creating software that can aid medical doctors and researchers in evaluating electronic health records, several standard medical terminologies are currently used in these records including RxNorm. This software should help researchers glean relevant information from electronic health records much faster than would be possible without the aid of computers. They would be able to use this information for research studies on particular diseases, subpopulations, and clinical research study cohort formation.
During the project I created summaries for the research papers I read, as well as powerpoint presentations that could be used as internal RxNorm case use reviews. Additionally, I was able to work with another student on the project, Jeff, and we collaborated finding the best method to evaluate the citations. Additionally, Jeff created some fantastic bibliometric data visualizations that we discussed the best method to produce and explain to the RxNorm team.
In addition to the RxNorm project all of the students participating in the alternative spring break also got to hear presentations from several different departments of the NLM. I hadn't realized how far-reaching the NLM's outreach efforts went, from helping rural communities in the US to US allies abroad. My favorite presentation was on metadata, presented by Nancy Fallgren, and went into detail about the way NLM transforms their metadata so that it is machine-readable, open-access, and interoperable in nature. The number of different forms of metadata that bibliographic records at NLM go through is dizzying and I found the presentation fascinating. Overall I feel that I not only learned a lot from my project about RxNorm and electronic health records, but also learned a lot about NLM as an organization.

---
Jeff Griffin
For the 2021 Alternative Spring Break project, I opted for the 2019 RxNorm use case review. As a component of the Unified Medical Language System (UMLS) it too was developed by the National Library of Medicine. I became interested in UMLS in LIS 602 Knowledge Organization, using it as the subject of my final term paper. It seemed to me then and now an elegant solution to a uniquely fragmented and disjointed US healthcare system. But even more than that, it offers an avenue to something like natural language processing by distilling a hoard of controlled vocabularies into the minimum number of concept identities. NLM offers it freely for whatever use, and because its purpose is unspecified, what exactly it is being used for is a matter of interest, which is where this project comes in.
Over the course of the week, Leah Everitt and I went through and summarized RxNorm-related articles listed in Medline. It was far more challenging than I anticipated, since these articles represented highly specific and novel uses in various technical fields. The goal was to create easily digestible summaries of each article, outlining the ways in which RxNorm was used in each study. Since RxNorm, like UMLS, was designed to supplement a primary application, often it played a secondary, albeit essential, role to the studies in question. The articles were interesting. A common theme was the use of RxNorm on electronic health record (EHR) databases for the purpose of retrospective cohort identification and construction. Because EHR systems have no shared structure or terminological convention, it is imperative to yield useful and consistent information from unstructured data (like those found in clinical notes). RxNorm greatly eases this task, allowing for machine processing of natural language by linking any term to all the affiliated ancestor and child terms via a concept unique identifier, which is just a semantically empty numerical string (it's very beautiful in a platonic sense).
The second component involved the creation of high-quality visualizations, but we were told at the start that they did not expect us to get to these because of the shortened amount of time allotted. But I remembered that, in LIS 662 Data Visualization, we briefly went over this bibliometric visualization program called VOS Viewer, which is open-source, creates nice bibliometric visuals, and actually has a user interface—so no programming required. Since I had a little time when I finished, I made some visualizations on author relations, keyword relations, MeSH relations, etc. This seems to me to be where bibliometrics is most useful, since it affords a visual summation of the interrelatedness of seemingly disparate articles. I would have done a topic-modeling analysis in R but time constraints and the dearth of articles kind of obviated this approach. It would be interesting to do it on UMLS in general, I think, since there is a significantly greater number of publications on it (UMLS predates RxNorm). Because UMLS and RxNorm often play a secondary role in the studies that cite them, treating the collection of said publications as a single corpus and using text mining to tease out topical themes would be ideal for this.
Elsewhere, they were generous enough to schedule talks by representatives of different departments, highlighting what they do and opportunities available for LIS graduates. This was immensely valuable to me since this field—along with its keystone institutions—is somewhat opaque and is singular in every sense. Although the project was virtual this year, I still feel it a rewarding experience. I think the National Library of Medicine is more exemplar of health science librarianship than, say, the Library of Congress is to general librarianship, because the field is defined by a single matter of interest—that is, human health—which is every bit as collective as it is individual. The interests are consistent throughout. So I do feel grateful that I caught a glimpse of the inner workings of the NLM, if only from afar.
Reflections
Elisabeth Anderson
During my week as a (virtual) intern at the Smithsonian National Museum of National History, I helped with research for upcoming events in the Public Relations and Marketing Department. I looked up different libraries from around the country and studied their marketing approaches to the public through their websites.
I learned a lot! I was definitely struck by the differences in marketing between different libraries, based on what library type they were and their targeted patron base. Perhaps my biggest take-away overall was that previously I had thought that a well-made website might replace the need for and decrease an interest in an in-person library or museum visit. However, I found it was just the opposite. Some of the websites that appeared dated or had limited visual data stood in stark contrast to some websites that were clear, simple, fun, and easy to use. I found that an enjoyable website experience actually increased my interest in making an in-person visit! I was impacted by my internship in many ways. It was easy to complete the work virtually, and I had the added benefit of feeling like my recommendations were genuinely valued. Now I have a connection to the Smithsonian. This positive experience both helped reveal the many opportunities available in the world of library science and encouraged me to try more internship opportunities and learn new things. Finally, I would like to thank Ashley DeWitt for helping coordinate everything and my Smithsonian supervisor for helping me have a fun, professional internship experience. I'm so thankful for this opportunity and experience. Even though I didn't get to see the Smithsonian in person, I was able to learn more about different information organizations and hopefully contribute something to this well-known institution.

---
Laura Cossette
During my week-long remote internship with the National Library of Medicine I conducted an evaluation of Health Services and Sciences Research Resources (HSRR), with the end goal of improving the database resources and saving money. Specifically, my project involved going through a spreadsheet of the datasets, instruments, and software resources in the HSRR database and searching for medical research projects that utilized that dataset, instrument, or software tool in the HSRRProj database. The goal is to eventually link the HSRRProj records to the HRSS information on the datasets or tools that were used for that project and get rid of the old HRSS database altogether. NLM wanted to know how many of the resources in HSRR are referenced in HSRRProj projects, and how many records in HSRR would be orphaned if they removed the database after linking the relevant datasets and tools to HSRRProj projects.
This was a chance to apply the database search skills I gained in LIS 601: Information Search. As I made progress during the week, I became more confident in my search strategies, using what I knew about operators, limiters, and query modification to alter the precision or recall of results as needed. My goal was to find any projects that utilized a specific resource, which often required multiple query attempts to ensure I didn't miss relevant projects, using quotes for exact string matches, the AND and OR operators, dropping some of the less relevant words, or searching for the acronym of a dataset or tool.
Because the internship was turned into a remote internship at the last minute due to concerns over coronavirus, I also learned how essential strong communication skills are in these situations. On my first day, after having technical difficulties with the WebEx portal due to overload (everyone was teleworking and using the system), I struggled to get some of my complex questions answered by email. On Tuesday morning I was able to use email to send examples of a few datasets/tools I was struggling with, and then scheduled a phone call with my supervisor to work through those. Communicating by phone was much more successful, as we could explain more complicated and nuanced questions more quickly.
I also had the opportunity to attend video presentations on web archiving and linked data projects from other librarians at NLM. This was a huge benefit, as I am very interested in these topics and hope to pursue similar projects in my future career. I learned a lot about the Archive-It software and tools, MeSH RDF linked data, and got helpful career advice from the presenters. I am very thankful for the opportunity this internship afforded me and am looking forward to following the advice I was given and applying the skills I learned in the future.

---
Ella Gibson
Working with the National Library of Medicine or a week was an amazing experience. With the COVID-19 pandemic I unfortunately did not get to travel to Bethesda in person, but was able to spend a week learning more about NLM and NIH virtually. NLM staff, at the start of Alternative Spring Break, had transitioned to remote work as well so it was amazing to see all the ways that the staff had precipitated an event like this happening. Their move to remote working seemed seamless and I was beyond impressed with how efficient and functional everything was. I was even more impressed with Kathel Dunn's and Sharon Han's ability to quickly change an in-person experience into an immersive virtual one. Being able to sit in on a Library Operations meeting, and having staff teach us more about what they are doing at NLM regarding web archiving and metadata was truly phenomenal. Throughout the week I constantly thought about what a unique experience I was having and how much it made me want to be able to work with NLM in the future.
My project specifically was focused on using a past webinar on common data elements (CDE) to create an immersive, functional, class. NLM and other medical institutions use CDEs to help streamline their research and clinical studies. The CDE repositories essentially act as guides for future and past research by utilizing the same terms or questions so that queries can be connected to other relevant studies. The goal was for me to create learning goals and objectives while also identifying formative and summative assessments that would benefit the student taking the class. As the audience is intended to be health science librarians, it was fun for me to transition to creating these items for adults rather than children. At points it was shocking how much my educational background benefitted the project and enabled me to make connections that may have otherwise been missed. Seeing how I can use skills I already have in my toolbox in my future career was reassuring to me as a graduate student. My project lead, Kate Majewski, was appreciative of the way I was able to chunk the webinar down into clear learning goals that could be reached with simple, but applicable, assignments.
Currently I am not able to work in a library so it was a fantastic experience to get to work with NLM for a week. I connected with the associate fellows and learned more about how they ended up in their respective careers, and I connected my librarianship interests with applicable career opportunities. Previously I hadn't considered how NLM would combine my love of working with the public while utilizing skills I already had established. By working with Kate and learning more about the Office of Engagement and Training, though I can visualize a spot for myself within librarianship that combines elements of my teaching skills with my future career goals. Librarianship is an ever-changing career field and being able to help educate is an important tool that a librarian can utilize.
Four students interned at the Smithsonian Libraries in Washington, D.C. and four interned at the National Library of Medicine in Bethesda, Maryland. With their supervisors' guidance, the students worked on projects in advancement, public relations and marketing, research services, natural history, education, outreach and genetics.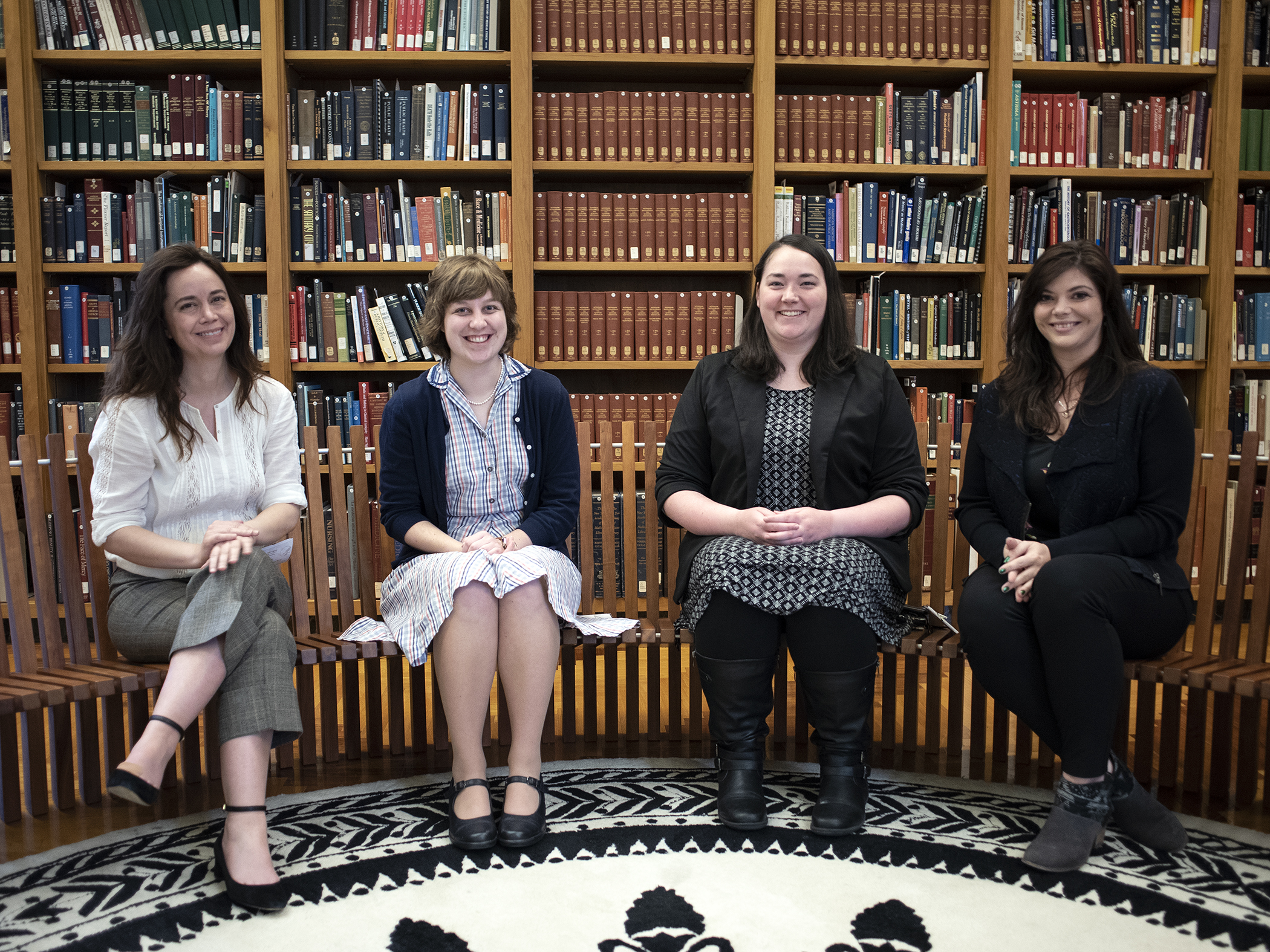 Group photo of students interning at National Library of Medicine
Reflections
ARIEL MACON

Institution: Smithsonian Libraries

"This program was actually one of the reasons I chose Kentucky over some other schools that had the same master's degree," Macon said. "I worked alongside the outreach librarian to help with events for Her Natural History as well as getting to write blogs over a few collections. One of the pieces of my project was working with the Magnificent Obsessions exhibit which highlights what and why we collect in an excessive or odd way."


 

BECKY FULTON

Institution: National Library of Medicine

"I also had the opportunity to network and gain a few important contacts in the field of federal librarianship, which is the area I hope to work in after graduating with my MSLS. These contacts are invaluable, and have allowed me to get an inside look at how federal libraries operate," Fulton said. "I am truly grateful for this opportunity to experience DC life through the lens of one living and working in the area, as opposed to being a tourist."

 

BRECK TURNER

Institution: Smithsonian Libraries

"I actually worked in two of the Smithsonian Libraries branches during my internship," Turner said. "At the NMAH Library, I used Drupal to restructure the webpage for their research guide. For the latter part of the week, I evaluated resources that the NMAAHC Library had collected for use on its research guide, placed them under subject headings, and added new resources to that list."
 

ELAN WARD

Institution: National Library of Medicine

"We were tasked to work with the History of Medicine Division's Card Catalog, analyzing which titles have digitized finding aid information, which ones are not digitized but have helpful shelving information, and which cards are no longer useful at all. All of this is in preparation for their reading room refurbishment, and the impending movement of the 500,000 titles in the card catalog behemoth. Overall we managed to work through 1,000 cards and analize the Excel data through pivot tables," Ward said. 

 

JESSICA PERRY

Institution: Smithsonian Libraries

"Outside of our assigned projects, the interns were treated to tours of the Cullman Library, which features the Smithsonian's rare books collection, relating to science and natural history, and the American Art and Portrait Gallery Library, which contains books relating to American history, art and portraiture, and must more. Both these tours were eye opening, not just because of the treasures the libraries contain, but also because of the interactions with the librarians, learning about their paths to the Smithsonian Libraries and their specialties," said Perry. 
 

KELLY BILZ

Institution: National Library of Medicine

"ASB was a fantastic networking experience, allowing us to form contacts in the NLM, a gateway to future NLM internships or government jobs," Bilz said. "It was especially rewarding to meet my classmates face-to-face, in addition to the other wonderful individuals who were part of other programs or who worked at NLM for many years."

 

 

 

STACEY MITCHELL

Institution: Smithsonian Libraries

"I was tasked with producing a public relations and marketing plan for a specific Smithsonian publication, ABCEDARIUM: An Adult Coloring Book for Bibliophiles." In the course of this work, I was able to attend a colloquium by the authors to learn a bit more about the conception and development of the book," Mitchell said. 

 

JENNIFER QUICK 

Institution: National Library of Medicine

"My project was to create a topic of focus, and content for a campaign presented on the social media platforms of Medline Plus. I was given a great deal of freedom for determining the direction the campaign would take, and spent time between events and meetings researching the pertinent content to present to the public on my chosen topic of nutrition," Quick said.