The Warren Lecture in Advertising and Digital Media honors the memory of Irwin Warren, who created some of the nation's most successful advertising campaigns. The lecture series was established by Patrick Mutchler, a graduate of the School of Journalism and Media, formerly the School of Journalism and Telecommunications, in the University of Kentucky College of Communication and Information, who worked with Warren while in marketing with Johnson & Johnson.

---
Past Warren Lecturers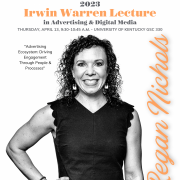 ---
Regan Nichols, a Louisville-based marketing and advertising executive, delivered the 2023 Irwin Warren Lecture on April 13 in the Gatton Student Center. Nichols is a communication graduate of The University of Kentucky and has 15 years of advertising agency experience. Most recently she was the president of Scoppechio, a full-service agency in Louisville, Kentucky. Before moving back to the Bluegrass State and driving growth at the agency for 10 years, she led account teams at Havas/EuroRSCG in Chicago and then StudioBanks/Union in Charlotte, North Carolina.
"Brands and team building are my passions," said Nichols. Her entrepreneurial spirit and high energy have developed her into a strong leader who prioritizes people and creativity, regularly navigates ambiguity, loves to problem solve and is tenaciously results-driven.
An avid supporter of the arts and a fitness enthusiast, Nichols is passionate about giving her time and talents, teaching dance classes and volunteering within the community. Currently, she is supporting The Louisville Ballet as their interim CMO. Her other big love is travel. Regan is in her happy place exploring the National Park trails or the arts and cultural scenes abroad.
The Warren Lecture is sponsored by the University of Kentucky Department of Integrated Strategic Communication and the College of Communication and Information. 
VIEW THE 2023 WARREN LECTURE RECORDING HERE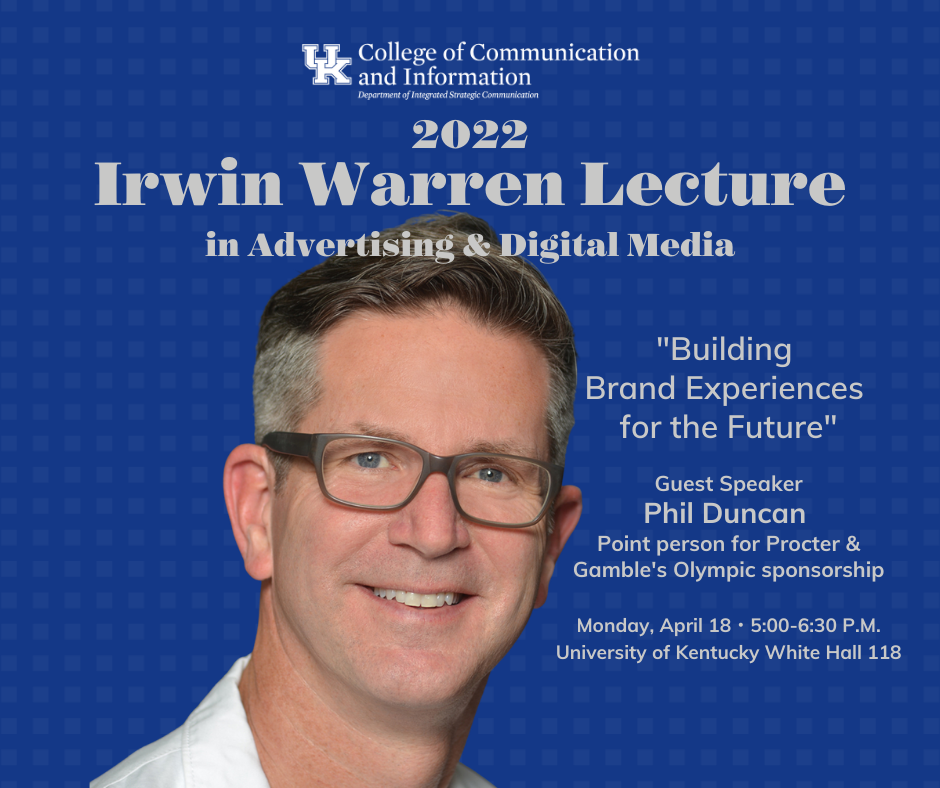 ---
Phil Duncan, chief design officer for Procter & Gamble, delivered the 2022 Irwin Warren Lecture, titled "Building Brand Experiences for the Future," on Monday, April 18 from 5 – 6:30 p.m. in White Hall 118. The program is sponsored by the University of Kentucky Department of Integrated Strategic Communication and the College of Communication and Information.
Duncan leads P&G's global design discipline in transforming the strategies of the company's ten product categories into superior, holistic consumer experiences. Working seamlessly from innovation to execution, his organization applies design thinking and technical expertise to all aspects of product, package, retail, digital and environment design.
In addition, Duncan leads company-wide immersive and reputation-building initiatives, including P&G's worldwide Olympic sponsorship and CES experience. He is also one of the original founders of P&G Ventures, an entrepreneurial group within P&G that works with internal and external innovators and entrepreneurs to create new brands, technologies and business models.
"It's always great to welcome UK grads back to campus, so it's a particular honor for ISC to host Phil Duncan," said Beth Barnes, ISC's Director of Undergraduate Studies. "The Warren Lecture allows our students to hear from leaders in the strategic communication field. With the series' focus on advertising and digital media, it's a chance to explore topics from many aspects of the strategic communication spectrum." 
Barnes added that Duncan, as point person for P&G's ongoing Olympics sponsorship, "will be able to give our students a behind-the-scenes look at what goes on in a major global sponsorship effort, and how P&G's Olympics work plays out across the company's strategic communication efforts. There's not a much bigger stage for brands than the Olympics, and so this year's lecture is a great fit with the focus of this lecture series."
---
2019: Chuck Brymer, Chair, DDB Communications Group
---
2017: Mark Carroll, Partner, Bandy Carroll Hellige Advertising and Public Relations
---
2017: Dan Hartlage, Principal, Guthrie/Mayes Public Relations
---
2015: JoAnn Sciarrino, Knight Chair in Digital Advertising and Marketing, University of North Carolina-Chapel Hill
---
2015: Jim Alessandro, Senior Vice President, Marketing and Sales Strategy, Walt Disney Parks and Resorts