The Department of Integrated Strategic Communication Alumni Symposium gathers early-, mid- and established career experts in ISC disciplines in an annual panel to share knowledge, skills, stories and advice with ISC students. Rigorous Q&A sessions focus the Alumni Symposium on career readiness, social mobility, school-to-work transitions and other pressing issues which directly impact emerging communications professionals.

---
Past Alumni Symposiums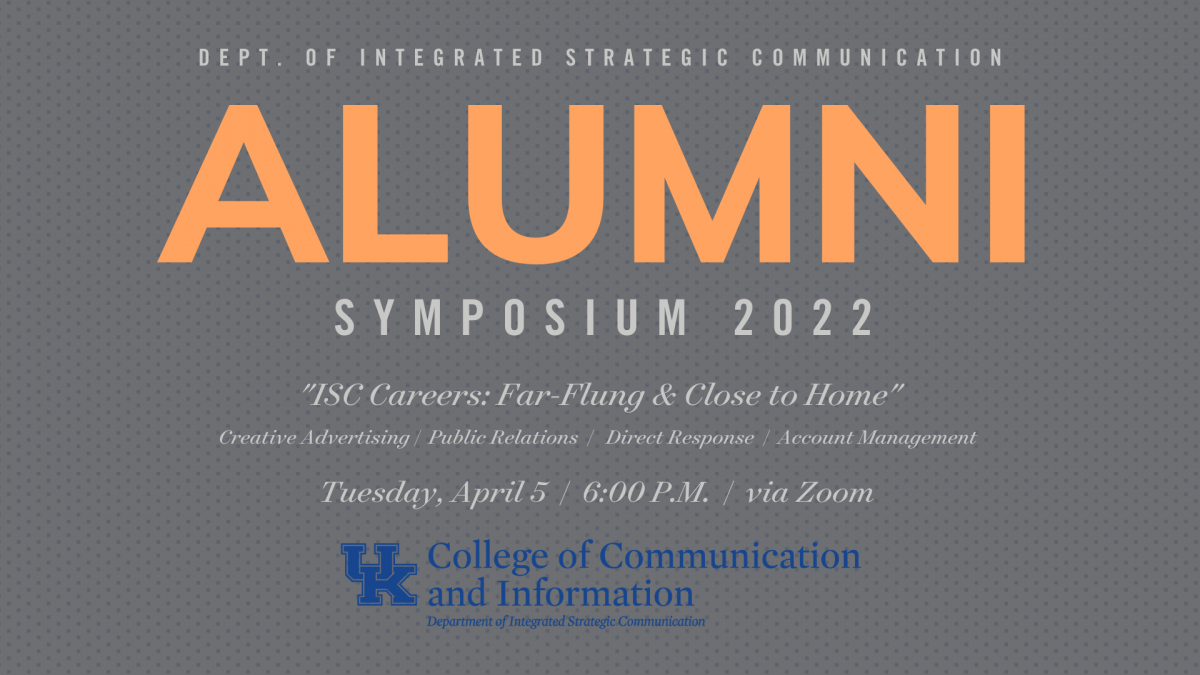 ---
ISC will host its second-ever virtual Alumni Symposium via Zoom on Tuesday, April 5 at 6:00 P.M.
This year's panelists include Misty Beard, communications engagement, God's Pantry, Lexington, KY; Jeffrey Boyd, new business strategist, Snap Inc., Los Angeles, CA; Elena Griffo, social media, GS&F, Nashville, TN; Nicole Levy, digital marketing, Hanger Clinic, Austin, TX; Kennedy Mann, marketing coordinator, Jacksonville Jaguars, Jacksonville, FL; and Rebecca Migitz, marketing delivery, JPMorgan Chase & Co., Columbus, OH.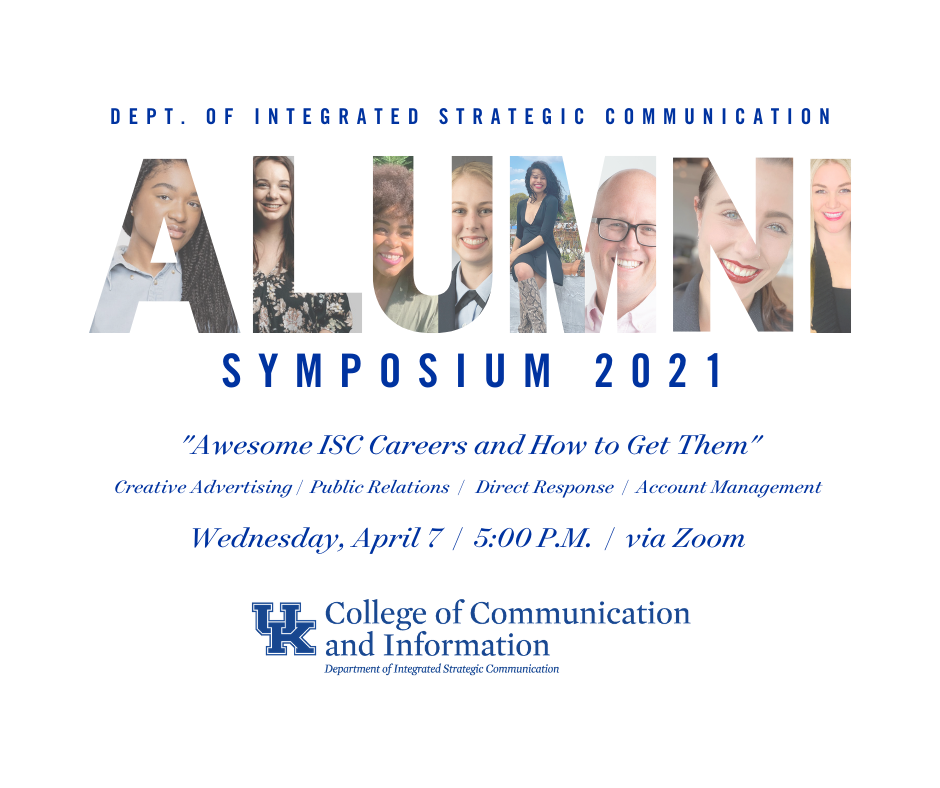 ---
About the Symposium
The Department of Integrated Strategic Communication hosted its first all-virtual Alumni Symposium via Zoom on Wednesday, April 7 at 5 p.m. The panel, titled Awesome ISC Careers and How to Get Them, aimed to connect multigenerational alumni from strategic communication fields including advertising, public relations, direct response and account management, with current ISC students and the larger CI community.
This year's alumni panel featured Tessie Bertrams of Gravity Diagnostics; United States Air Force 1st Lt. Savanah F.S. Bray; Sheridan Broady, social marketing coordinator at Fenty Beauty and Fenty Skin; Glenn Goodman, executive creative director at The Power Agency; Elena Griffo, a Nashville-based social nedia account supervisor at GS&F; ADDY award-winning graphic designer Claire Monkman of Zipie; Chelsea St. Clair, senior creative strategist at hi5 agency; and Ronnie Dickerson Stewart, Zoom's diversity equity & inclusion marketplace and community lead.
 
---
About the Panelists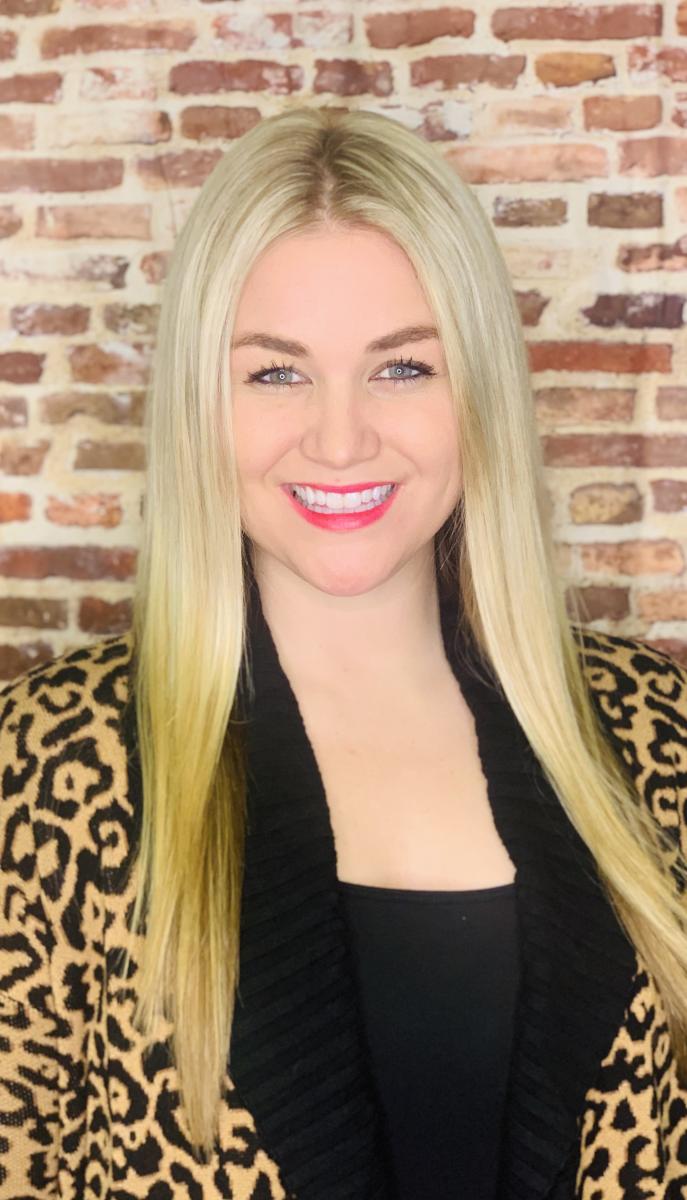 Tessie Bertrams is an Ohio-born marketer with a passion for brand building and leadership. She attended the University of Kentucky where she was an integrated strategic communication major and a member of their NSAC award-winning student advertising team. Throughout her career, she has had success leading marketing strategy across multiple industries, including e-commerce, healthcare staffing and most recently, laboratory service.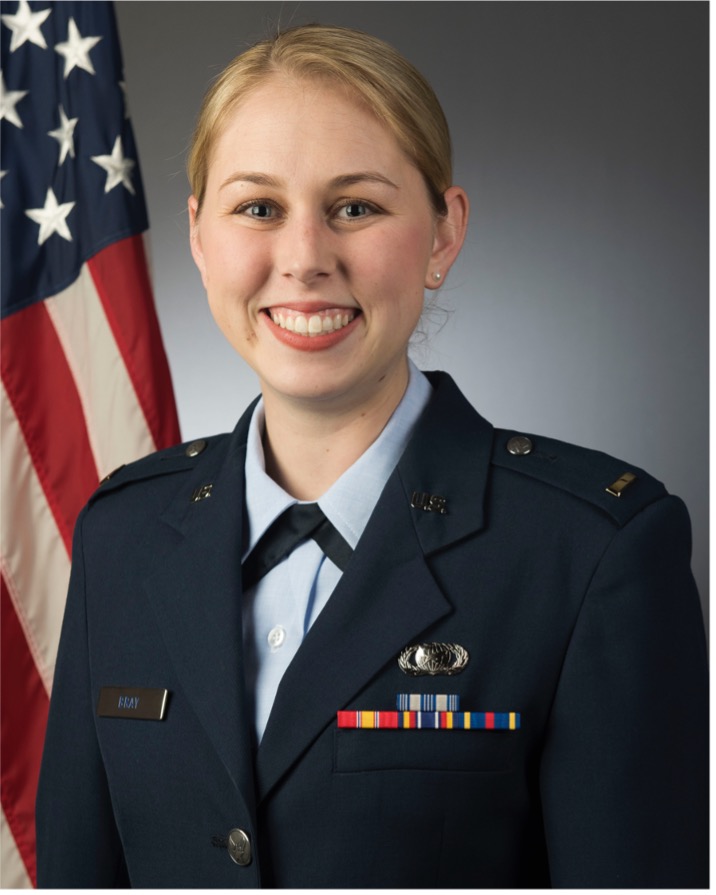 1st Lt. Savanah F.S. Bray is the public affairs advisor for the United States Air Force 53rd Wing, supporting 2,600 military and civilian personnel across 69 units at 18 diverse locations throughout the United States. Bray leads the Air Force's cutting-edge communication program for operational testing, evaluation and tactics development of fighter, bomber, combat search and rescue, and remotely piloted air vehicle weapons systems. She serves as spokesperson for the wing and conducts publicity/media and community relations. Bray has extensive communications experience, having worked in executive communications at the University of Kentucky as a speechwriter and communications strategist for the University president. She is currently an adjunct faculty member at Purdue University Global.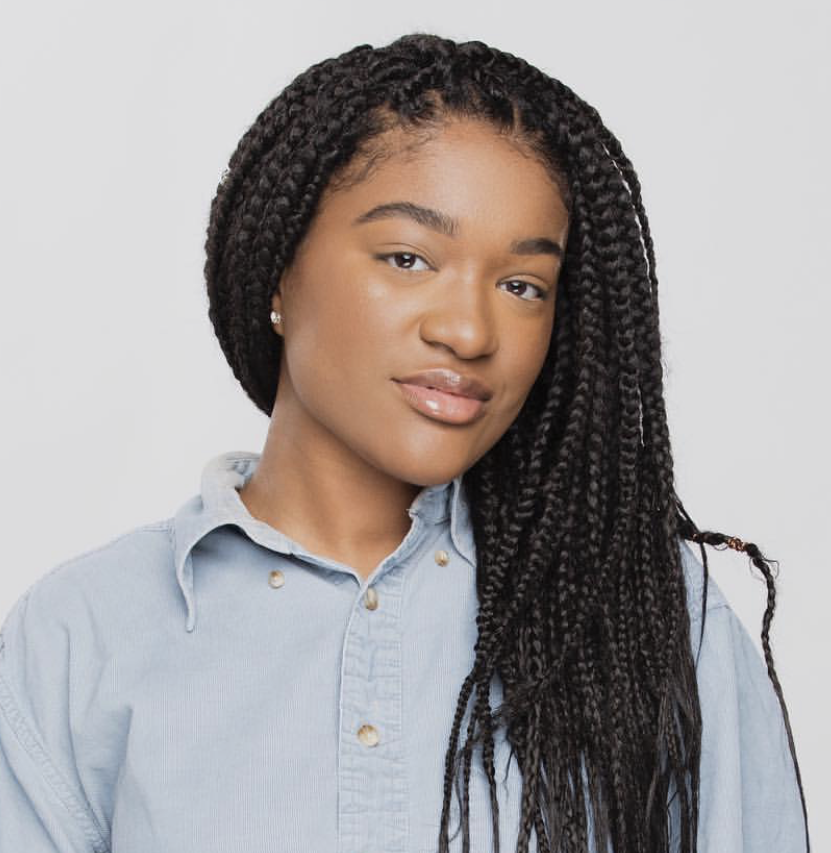 Sheridan Broady graduated from the University of Kentucky with a B.A. in integrated strategic communication and a minor in graphic design. She is currently the social marketing coordinator at FENTY BEAUTY and FENTY SKIN by Rihanna in San Francisco, California, where she leads platforms like Twitter, Instagram and TikTok.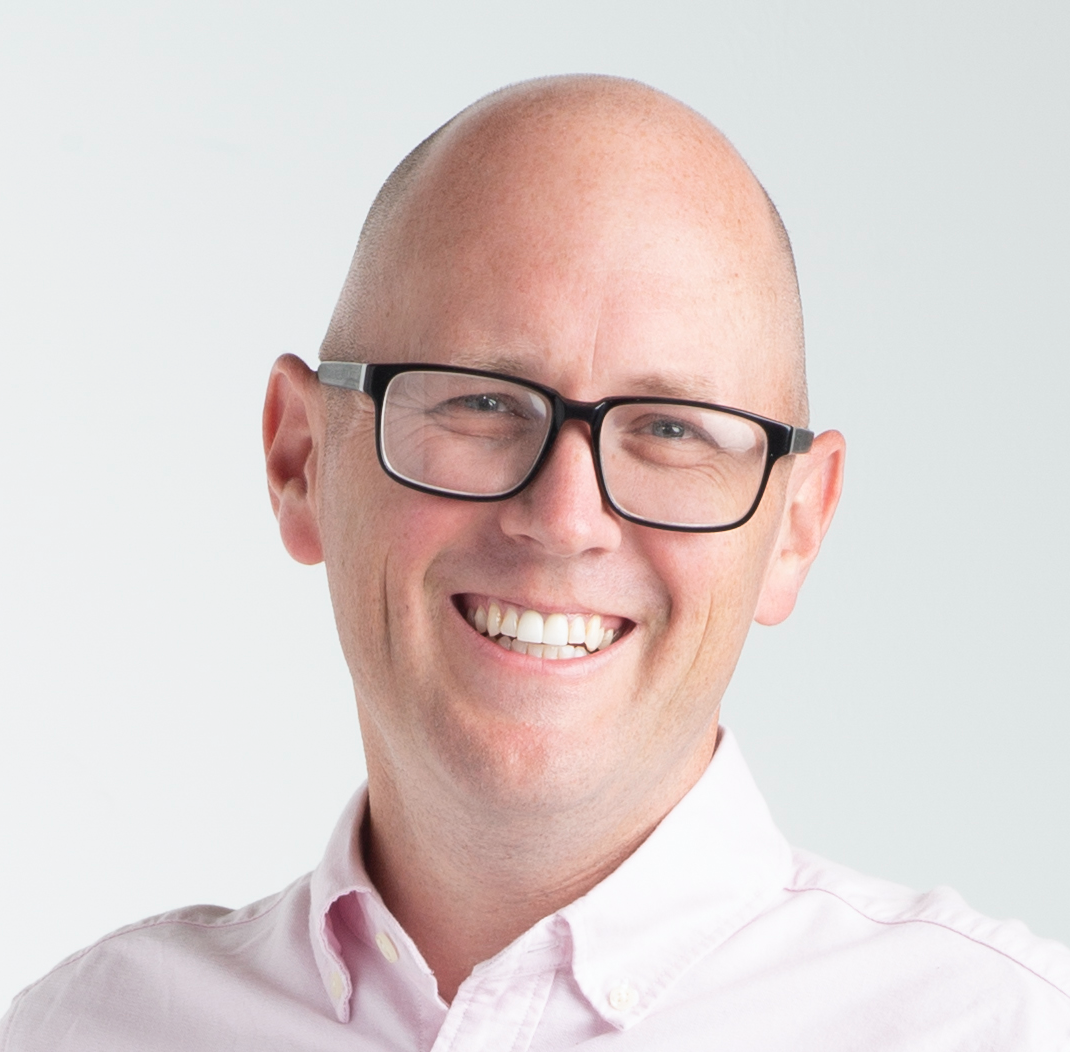 For more than 15 years, Glenn Goodman (executive creative director, The Power Agency) has had an award-winning record for creating and directing innovative, transformative ideas that connect people to brands in intimate and powerful ways for clients such as GE Appliances, GE Aviation, Churchill Downs, the University of Louisville, The Hartford and many more. He has been recognized in the industry for his work, most notably for B2B advertising that redefined how clients approached their channel marketing strategies. Whether it's advertising, marketing, digital experiences or brand positioning, Glenn's ability to hone a strategic idea down to a simple and beautiful message is what has helped The Power Agency become one of the most admired and successful agencies in the region.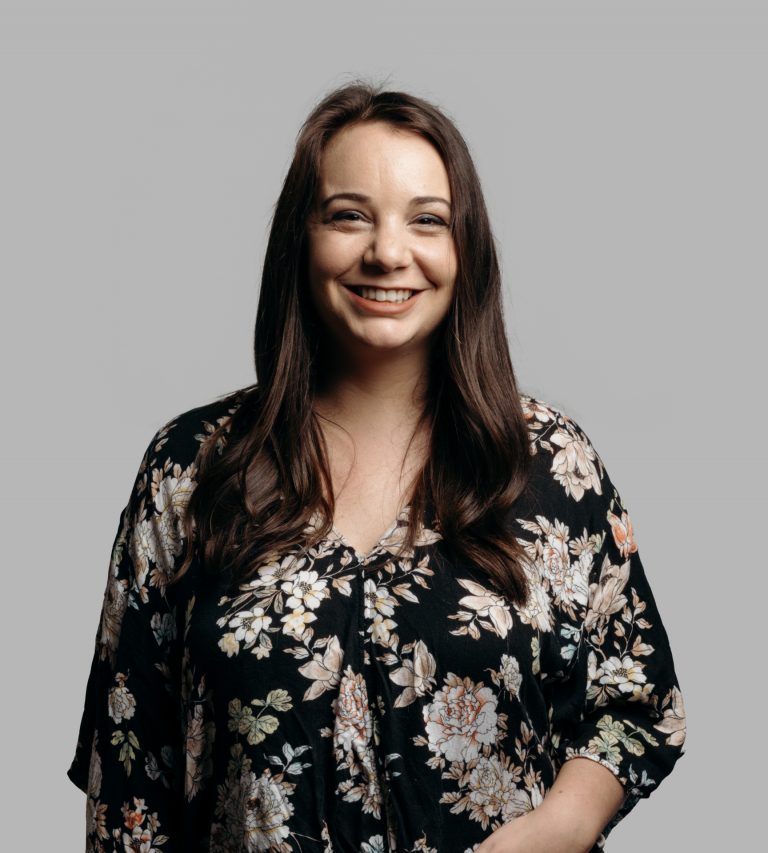 Elena Griffo is a social media account supervisor at GS&F in Nashville, Tennessee. Throughout her four-year career at the agency, Elena has led social media strategy and management for a variety of clients in industries including healthcare, quick-service restaurants, building and manufacturing and entertainment.
Claire Monkman is an ADDY award winning graphic designer. While a student at the University of Kentucky, she was on the AAF National Advertising Student Competition team and worked on creative for Wienerschnitzel, which won districts and finished 10th in the nation. Claire understands that to create effective designs in advertising, strategy is key. After working at Oculus Studios and on her own freelance clients, Claire came to Lexington's Zipie with expertise in branding, print and digital advertising. During her time at Zipie, she has worked with clients such as Ford Motor Company, Atchison Heller, Paul Miller Motor Company and Zipie's brand itself.
Chelsea St. Clair graduated from the University of Kentucky in 2016 with degrees in psychology and integrated strategic communication. Currently she is a senior creative strategist at hi5.agency working with entertainment and production companies to create advertising campaigns for upcoming shows and movies. Previously, she was a cultural strategist at sparks & honey and a guest lecturer at the University of Minnesota.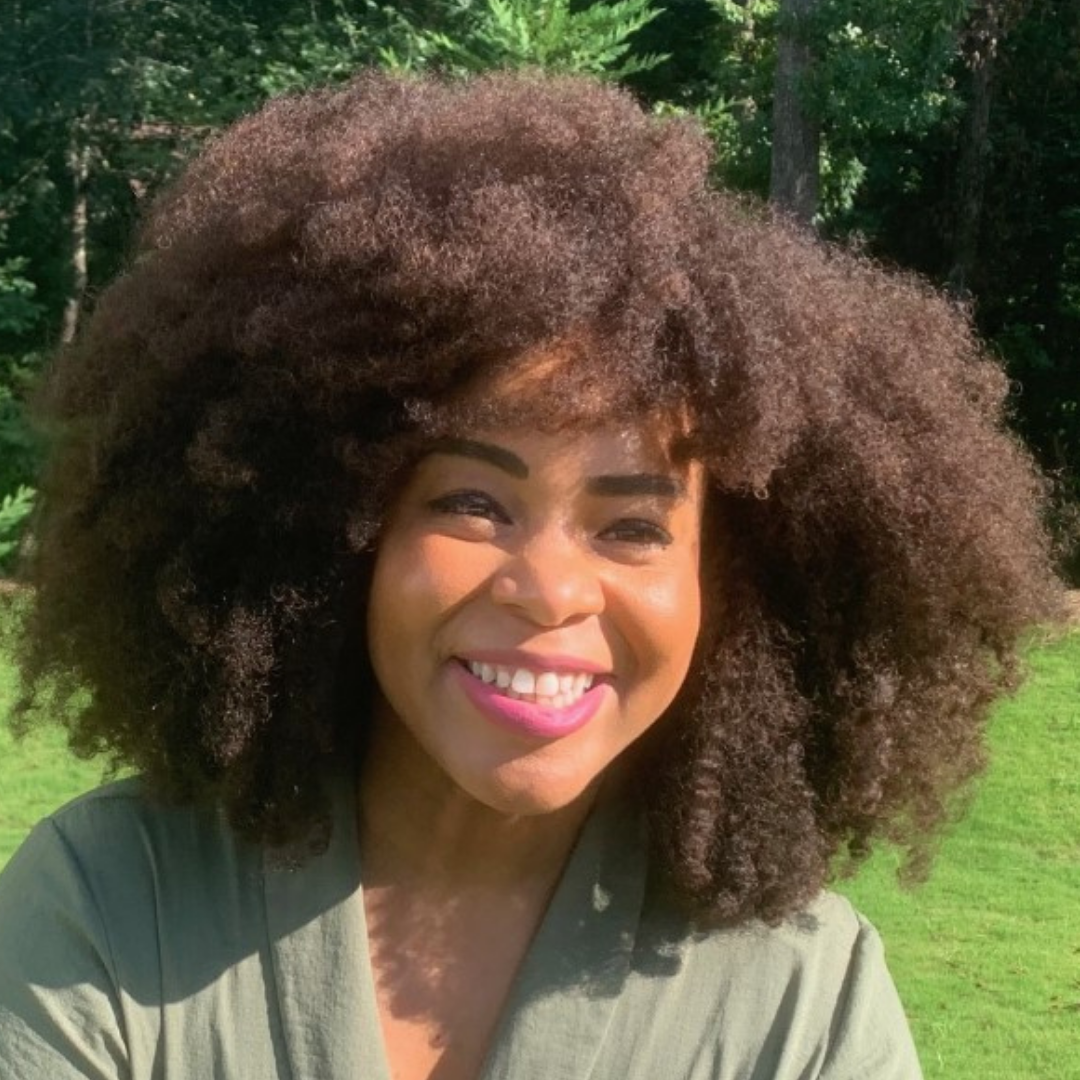 Ronnie Dickerson Stewart spent the last 17 years serving across global advertising and marketing firms, rising from intern to C-Suite executive, working with some of the world's most notable brands. She is an award-winning DE&I leader and certified career management and executive leadership development coach dedicated to the growth, success and advancement of others. From interns to C-Suite leaders, she's coached and consulted with countless individuals to support them in navigating their most critical career moments. She hosts her own podcast on this very topic, The Career Clinic Podcast. Ronnie is a thought leader and change agent in the advertising, marketing and tech industries, receiving numerous awards for her achievements, including but not limited to being named an ADCOLOR Industry Change Agent, a 4A's Paragon Award winner, and the recipient of the 3% Conference Nancy Hill Award (previous recipients include Cindy Gallop, among others). Ronnie is a proud wife, mother of two young children and was most recently named a Working Mother of the Year by She Runs It, an organization created to support the education and advancement of women. She recently pivoted to the tech world and serves as the marketplace & community diversity, equity and inclusion leader for Zoom.