September 5, 2023
ISC student designs logo for the 49th annual AEJMC Southeast Colloquium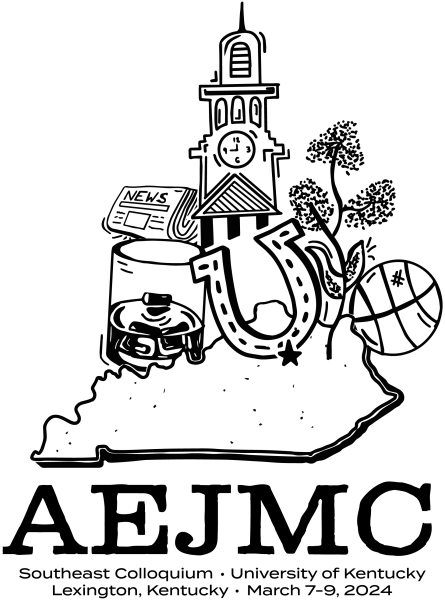 2024 AEJMC SE Colloquium logo
Ben Johnson (ISC, 2023) designed a logo featuring iconic Kentucky symbols for the upcoming 49th Annual AEJMC Southeast Colloquium, scheduled to take place from March 7-9, 2024, on the University of Kentucky's campus.
The 2024 conference will mark 24 years since it was hosted at UK. Since its inception in 1976, the Conference has only been hosted at UK one other time, in 1999.
The Association for Education in Journalism and Mass Communication Southeast Colloquium is an annual event that brings together education, journalism and mass communication professionals and educators. Johnson was asked to create a logo for the Colloquium that drew inspiration from Kentucky's most recognizable symbols.
"When I was approached to create a logo for a conference of out-of-towners visiting my home state, I knew that I wanted to create a collage-style logo that answers the question of 'What is Kentucky known for?' without a word ever being said," Johnson said.
Johnson, was approached by Department of Integrated Strategic Communication Associate Professor Adriane Grumbein to undertake the design project for the Colloquium.
"When the dean wanted a student-created logo, Ben was my first choice," Grumbein said. "He was the perfect fit."
Johnson said the opportunity to contribute to a professional project as a student was an honor. The experience also helped him feel prepared to take on his new career as an in-house graphic designer and social media manager at MacLellan Integrated Services in Louisville after graduating in May.
For more details about the Colloquium, please visit ci.uky.edu/AEJMCSoutheast2024.