June 1, 2023
UK Alumni Association names winners of Alumni Professorship Award
By Ryan Girves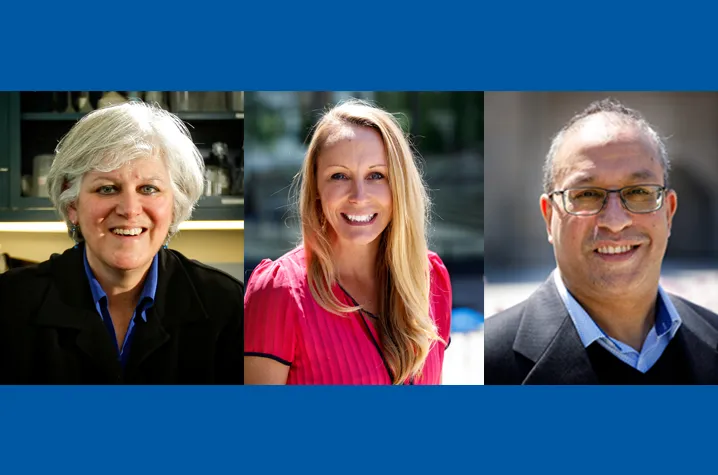 From left to right: Lisa Cassis, Melinda Ickes and Sherali Zeadally.
The University of Kentucky Alumni Association, with a committee chaired by the UK Acting Associate Provost for Faculty Advancement Sue Nokes, honors a select group of outstanding UK faculty members with the UK Alumni Professorship Awards. Dating back to 1985, when faculty were "recognized for their influential scholarly contributions, sustained excellence in teaching, and outstanding career or public service," the Alumni Professorship program is just one way for the UK Alumni Association to say thank you to the faculty members who have enriched the lives of UK's alumni.
"Our university's success is built on a foundation of great teaching," said Associate Vice President for Alumni Engagement and Executive Director of the UK Alumni Association Jill Smith. "The impact our faculty have on students lasts a lifetime. The UK Alumni Association is pleased to support faculty who have been recognized for scholarly contributions, excellence in teaching and outstanding service, through Alumni Professorships."
Academic deans are asked to make nominations based on the following criteria:
The individual should be a tenured faculty member at the rank of associate professor or professor.
The individual should have made outstanding contributions in research and scholarship that are recognized nationally for their quality and influence.
The individual should have established a reputation for being an excellent teacher and mentor.
The individual should be recognized for outstanding contributions to professional and/or community service.
This year, the UK Alumni Professorship Awards have has been awarded to Lisa Cassis, Ph.D., College of Medicine; Melinda Ickes, Ph.D., College of Education; and Sherali Zeadally, Ph.D., College of Communication and Information.
Cassis has served as the vice president for research since June 2015. As VP for Research, she leads the university's research enterprise and oversees research proposal development, grants and contracts administration, human subjects protection, 13 multidisciplinary research centers and institutes and seven service core facilities. She has provided leadership on the UK Strategic Plan and for the $265 million Healthy Kentucky Research Building — which focuses UK research efforts on Kentucky's most pressing health challenges in the areas of cancer, obesity, diabetes, cardiovascular diseases and substance abuse.
She is principal investigator on several, multi-million-dollar federal grants, including serving as program director of an $11.3 million National Institutes of Health (NIH) grant that supports the Center of Biomedical Research Excellence (COBRE) focusing on obesity and cardiovascular diseases. She has published more than 180 scholarly articles, has been continuously funded by the NIH for 35 years, has served on several NIH standing study sections and is the recipient of several national research awards.
"I am honored to receive a UK Alumni Professorship from the Office of Faculty Advancement and the Alumni Association," Cassis said. "I have had the privilege and pleasure of being on faculty at UK for my entire academic career, and have benefited tremendously from interactions with my colleagues, trainees, and mentors. It is their support that has contributed to this great honor, for which I am very appreciative."
Melinda Ickes is the UK College of Education Acting Assistant Dean of Research, as well as professor and director of graduate studies in the Department of Kinesiology and Health Promotion. She has a joint appointment in the College of Nursing where she serves as co-director of the Tobacco Policy Research Program, Bridging Research Efforts and Advocacy Toward Healthy Environments (BREATHE).
Ickes' research focuses on tobacco prevention and tobacco regulatory science, community-engaged research and supports health promotion efforts across the lifespan. She has received more than $8 million in funding building on her expertise in community-engaged research and intervention approaches. Ickes has published more than 80 peer-reviewed papers and has leveraged her research expertise to support university and community partners in reducing the prevalence of emerging tobacco products among at-risk youth and young adults.
Through her role as director of Go Tobacco-free, Ickes and her colleagues assisted 500 campuses and organizations in tobacco-free policy work. In 2019, in response to the youth vaping epidemic, Ickes developed #iCANendthetrend, a near peer-led youth prevention and empowerment program that has reached more than 16,000 Kentucky youths across 50 counties.
Ickes' passion for research is matched by her commitment to empowering the next generation of health promotion professionals and researchers. Ickes has received numerous awards for her mentorship of more than 100 graduate students and undergraduate students at UK. She developed the PREVENT Community-engaged Research Lab in 2022 to build an infrastructure to support students in community-engaged research and to establish bidirectional partnerships with community partners to support health and wellbeing across the Commonwealth.
"I am humbled and grateful to be selected for the UK Alumni Professorship Award," Ickes said. "At a university where many faculty are engaged in such important work, I am honored to be recognized as making a meaningful contribution and to be included among such accomplished and inspiring individuals. I am beyond thankful for the support from the Alumni Association, UK leadership, my colleagues and mentors, and most importantly, the tremendous teams and community stakeholders I have the honor to work alongside every day."
Zeadally, professor in the School of Information Science in the College of Communication and Information, as been named a highly cited researcher in Computer Science by Clarivate/Web of Science for the past three consecutive years (2020, 2021, 2022). His research explores novel cybersecurity and privacy-preserving architectures and protocols that can make the world safer and more secure.
Together with his research colleagues from Europe, Australia/New Zealand, Asia, Africa and South America, his cybersecurity and privacy solutions have been applied to a wide range of application domains (vehicular networks, Internet of Things, smart cities, health care and so on). Recently, he has also been focusing on energy-efficient computing solutions to reduce the carbon footprint. To date, Zeadally has published over 490 refereed publications out of which 360 have appeared in peer-reviewed journals and magazines. Over the course of his career, he has received over 60 awards, honors and prestigious fellowships for his outstanding research, teaching and service accomplishments.
"I dedicate this award to my family for all their support over the years and my research collaborators around the world for all their hard work," Zeadally said. "As this award also considers outstanding teaching and service in addition to research, I would also like to thank all my past students for their appreciation of my teaching in all the courses I have taught so far and several professional societies for their recognition of my international service accomplishments.Finally, I would also like to thank Jennifer Greer, dean of the College of Communication and Information, for her continuous support and encouragements."
Each of these three professors will receive a $15,000 stipend per year for five years, effective through June 30, 2028. The professorship and associated annual stipend are extended for a 5-year period and are renewable.
The Alumni Professorships are funded through the UK Alumni Association, and the selection and/or renewal of this professorship is managed by the Office of Faculty Advancement.