Our College hosts a college-specific Career Week for our students each semester full of career and internship focused events to help connect our students with employers, alumni and peers with similar interests.
Details for the Fall 2023 CI Career Week will be released next semester. For now, get a glimpse of what the next CI Career Week may be like by looking at our most recent Spring 2023 Career Week schedule.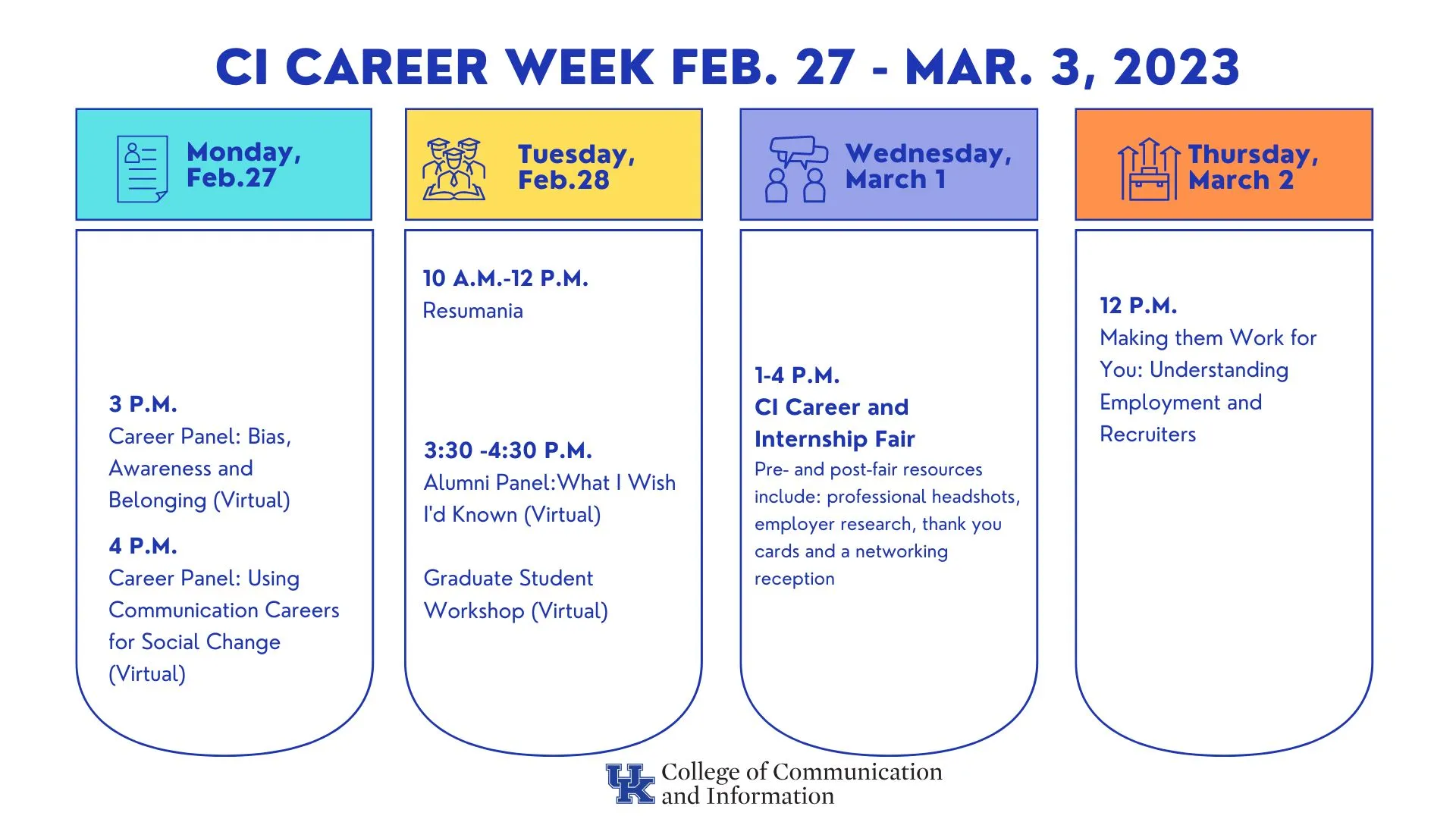 ---
Check out the College of Communication and Information's Spring 2023 Career Week!
Monday, February 27
Virtual Career Panels:
Bias, Awareness and Belonging: Diversity, Equity and Inclusion in the Workplace
Panelists:
Camille Wright, Associate Community Manager, Honda
Jacob Lewis, Public Relations Associate, National CineMedia
Fadyia Lowe, Associate Director of Student Wellness, UK
Neha Yousuf, News Producer, WDTN-TV
Using Communication Careers for Social Change
Panelists:
Sarah Ladd, Health Reporter, Kentucky Lantern
Becky Brooks, President, Alliance for Women in Media
Chaquenta Neal, Executive Director, Food Chain
Rufus Friday, Executive Director, Hope Center
Will Wright, Digital Strategist, Great Stories LLC
Tuesday, February 28
10 a.m. - 12 p.m. - Resumania
CI Student Success Center, 310 Lucille Little 
3:30-4:30 p.m. - Graduate Student Workshop: Teaching Philosophies
3:30-4:30 p.m. - Alumni Panel: What I Wish I'd Known For My First Job
Panelists:
Katelyn Dougherty, ISC, 2021, Associate Regional Sales Leader, Hershey
Michaela Haswell, ISC, 2020, Media Strategy Manager, Spark Foundry
Ryan Cullinane, COM, 2022, Sports Communication Assistant, University of Georgia
Camron Brown, JOU, 2020, Entrepreneur, Business Owner, Sales Associate
Kayla Ruth, VP Marketing for Free Spirit Marketing
Wednesday, March 1
1-4 p.m. - CI Career and Internship Fair (professional dress required)
Harris Ballroom, Gatton Student Center
on-site professional headshots
confidence table
thank you cards
employer research/Handshake/LinkedIn
post-fair networking and reception
Thursday, March 2
12 p.m.- Making them Work for You: Understanding Employment and Recruiters
Panelists:
Lisa James, Senior Vice President, Robert Half Talent Solutions
Robin Anthony, Search Consultant, Marketing Practice, TalentFoot
Lauren Miller, Head of People, ICON